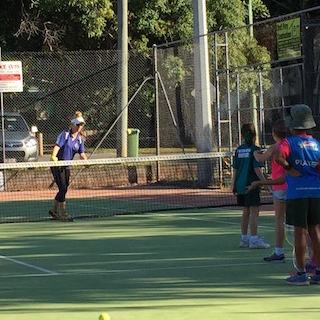 Adult and junior coaching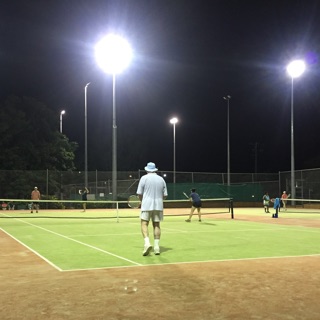 Singles and doubles fixtures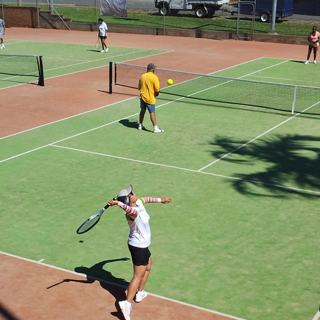 All the fun without the pressure
Coaching
If you are interested in adult or junior coaching, please don't hesitate to get in touch.
Fixtures
Night Fixtures
The club holds a mixed teams night doubles fixture, starting the second week of March and running for 15 weeks, (excluding the April School holidays) until the June school holidays.
Expressions of interest are called for from players, then the Club's Fixture subcommittee makes up teams of three or four players, men and/or women, so that we consider all teams having a reasonable chance of winning the fixture.
Matches are played on Tuesday and Thursday nights, starting at 7pm and finishing about 10pm. Each player partners each of his/her team mates for a full set.
The second Night Fixture season starts after the June School holidays and finishes mid November. For information on night fixtures, please contact us on 0432 868 409 or via our contact form.
Chicks @ Tuesday Tennis
Get involved with the most fantastic group of ladies. Every Tuesday 8am to 12:30pm throughout the school term. If you love social competition, lots of laughs and fun, we guarantee this is the group for you.
Format: Doubles (4 sets of doubles each)
Time: From 8am
Duration: Approximately 5 hours
* Competition runs for 14 weeks
For further information please enquire through Anna Lahe 0456 162 956.
Social Tennis
Freshwater Tennis Club has a loyal group of Social Players. Social tennis is played every Saturday afternoon from 3:30pm – 6:30pm.
Catering for both men and ladies, social tennis is based around 8-game sets with each player serving twice, all players are rotated throughout the day to make sure everybody gets a great game.
New players are always welcome and everybody is more than happy to see new faces. Social tennis is also a great way to get back into tennis if you have not played for a while. If you are interested in having a game of social tennis just drop down to the club on a Saturday afternoon.
Saturday Social Tennis is free for club members, non-members pay a $5 ball fee.
During the wet season, mid-November to mid-March, we play night social tennis on Tuesday and Thursday nights between 7:00pm – 10:00pm. Charge for Club members is $5 per night, non-members $10.
Freshwater Tennis club has a licensed clubhouse and most players (if old enough) enjoy a drink at the end of day.